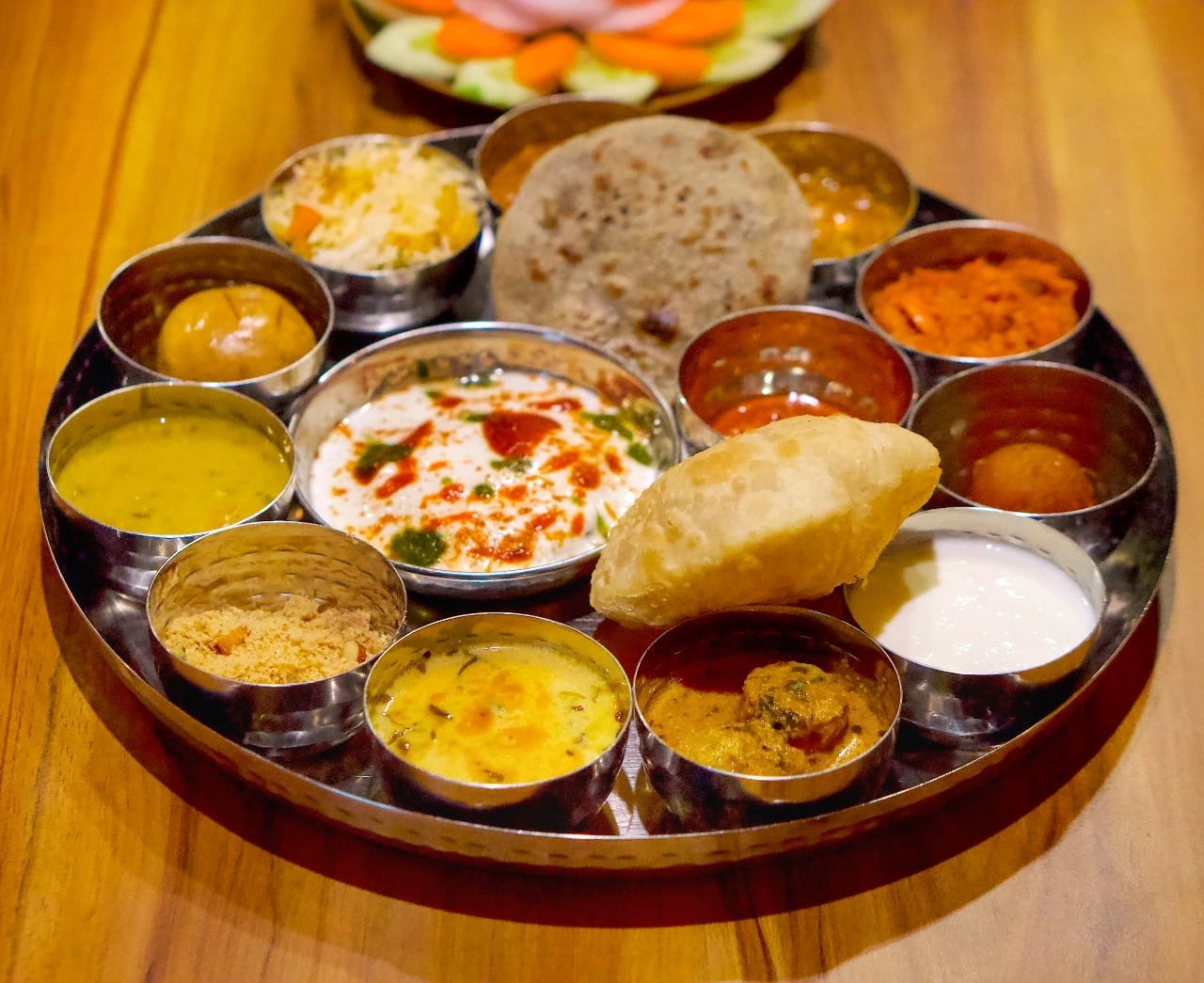 Dineout Passport Experience – Vegetarian Rajasthani Lunch At Parampara
Dineout Passport Experience 
It was not without reason that I was ecstatic when I was invited to review Rajasthani food at Parampara, the newly opened multi-cuisine vegetarian restaurant in Hyderabad. There is still a degree of scepticism associated with lunches following the second wave of the COVID-19 pandemic. Even for a few hours, transported to Rajasthan, was a joyful reprieve.  Additionally, my first Dineout Passport Experience lunch was organised by Ms Shivani.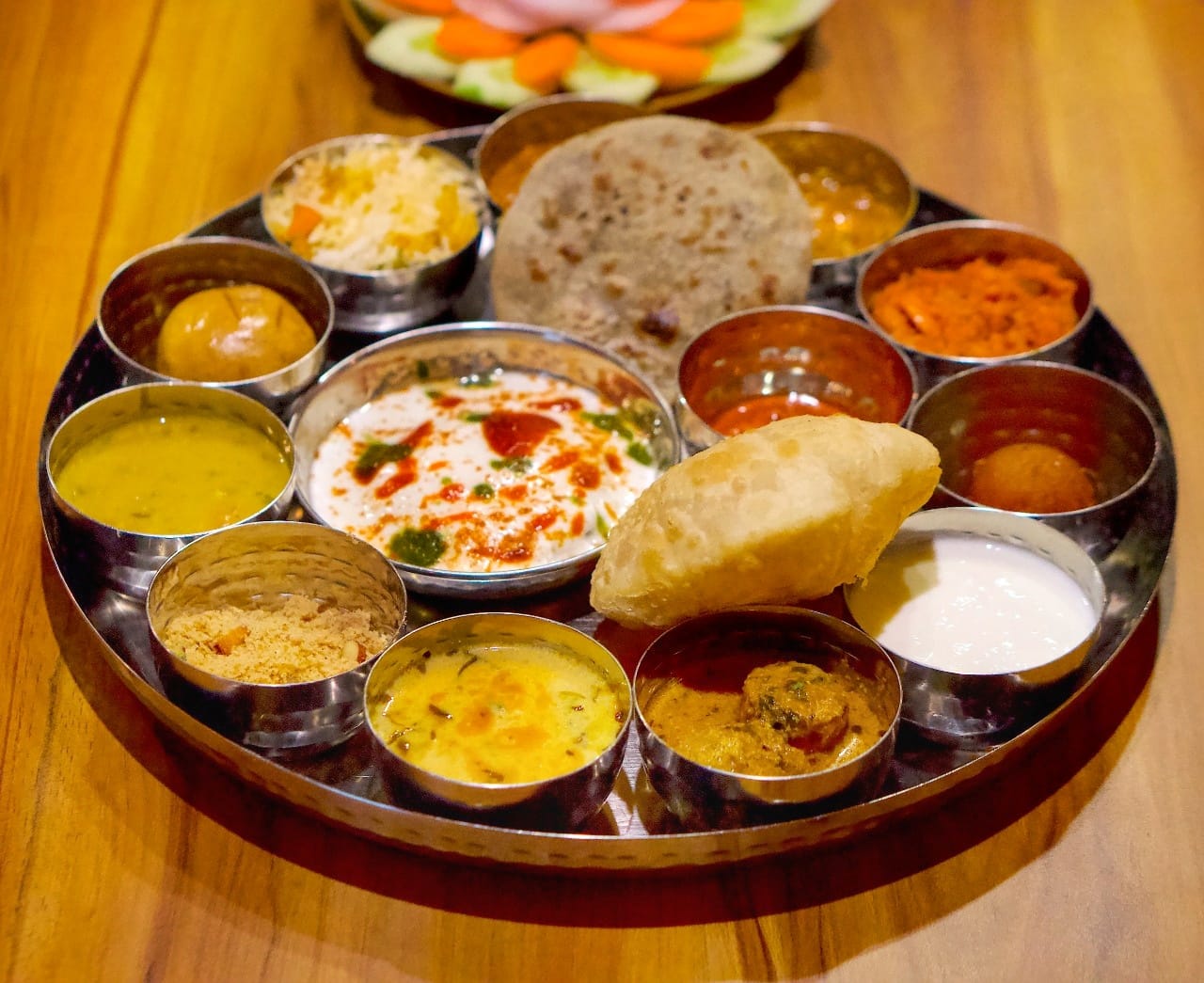 Rajasthani Cuisine
Rajasthani cuisine and its unique cooking style are noticeably different from other Indian Cuisines. Many of their dishes have a long shelf life and can be served without heating.  Ingredients like dried lentils, gram flour, bajra form part of the dishes. Among the North Indian Cuisines, Rajasthani food has been my all-time favourite. In my last visit to this culturally rich and heritage state, I Had a wonderful time in Jodhpur by exploring the Street food of Rajasthan.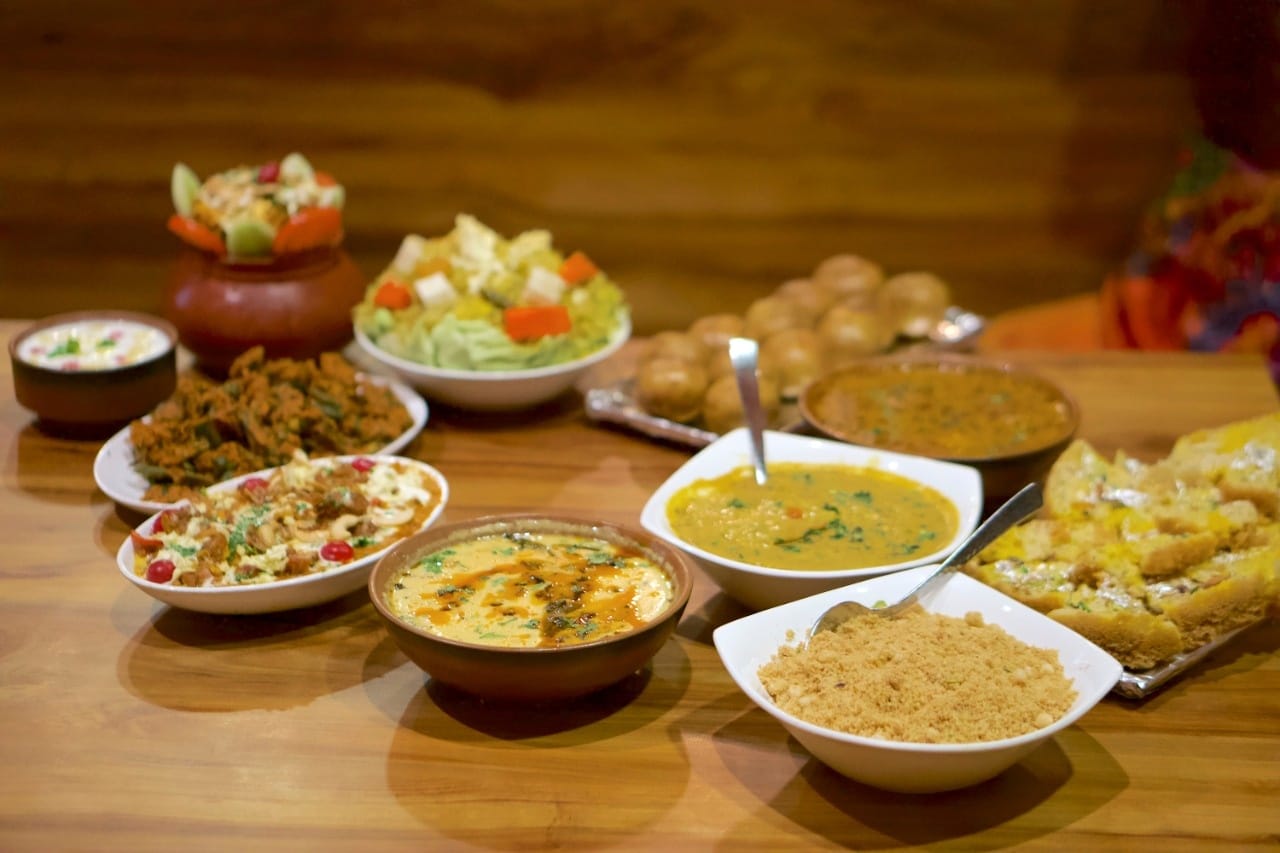 Vegetarian  Rajasthani Lunch Menu
The quintessential dishes we got to try for lunch at Parmapara, Hyderabad
Dal Baati Churma
The most famous platter and my favourite from Rajasthan comprising of spicy dal, roasted/baked Baati and Churma, which was mildly sweet. This combination made for a hearty and appetising meal.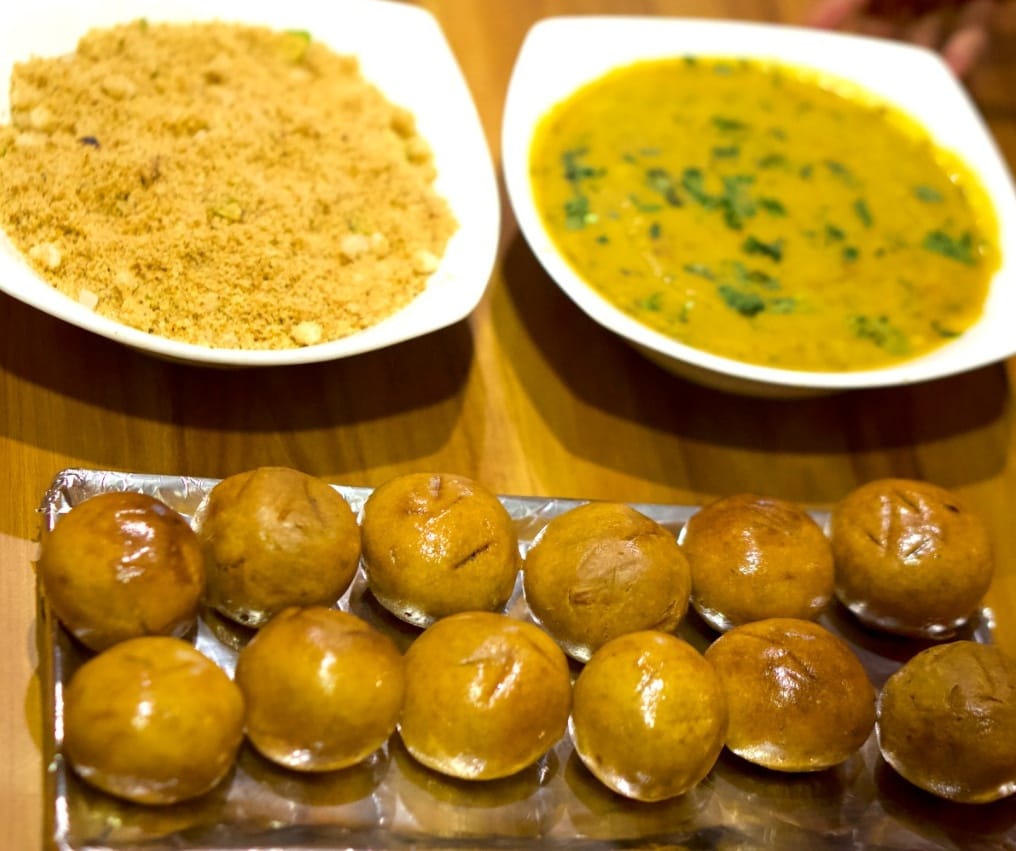 Kachori
This snack had a combination of spicy fillings. The one we were served was not fluffy and needed to get a golden shade to taste crunchy and crispy. That's how a kachori is but what you get in Hyderabad is not comparable but I did chomp away.
Gatte ke Sabzi
A no onion no garlic curry. The Besan ke Gatte were huge and not soft as desired. Dunked in a mildly spicy and tangy yoghurt based gravy. Easily the best option for traditional food during this healthy eating month is from the beautiful state of Rajasthan in India. Besan is gram flour. or ground chickpea flour.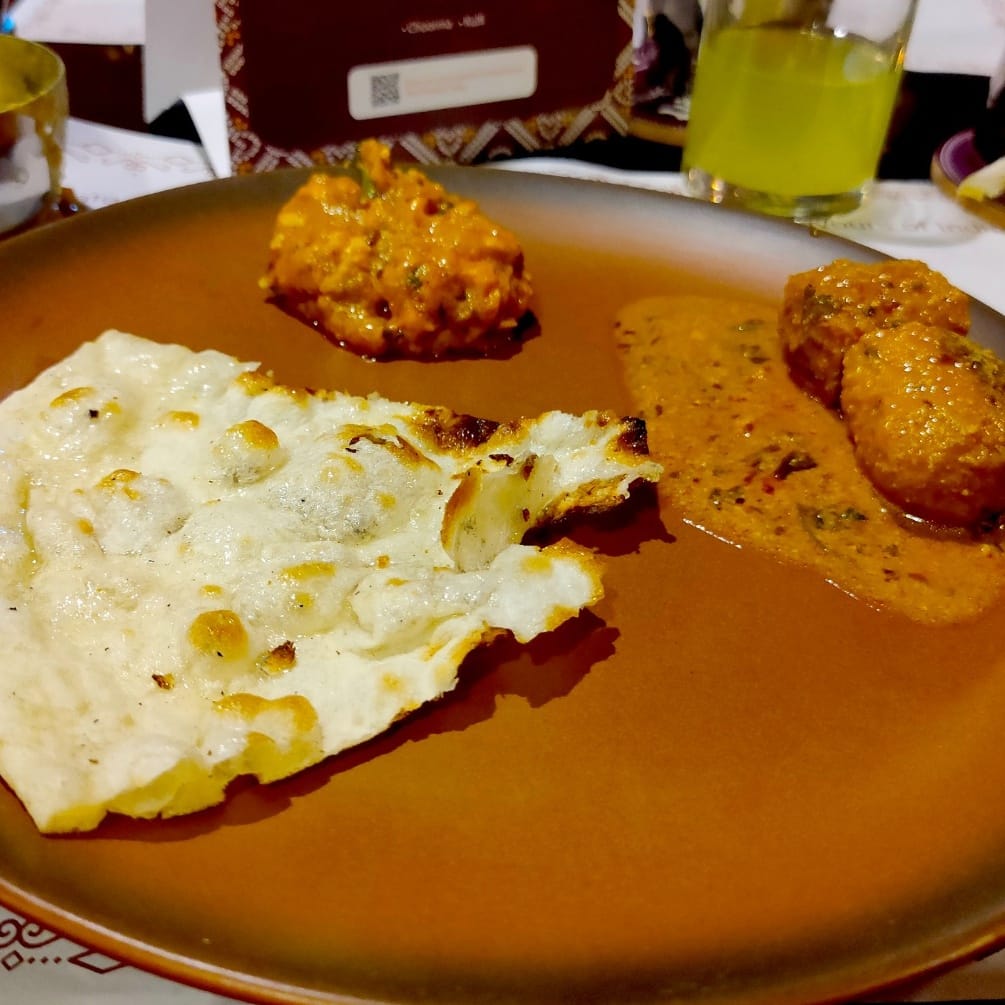 Rajasthani Kadhi
Another traditional food of Rajasthan is Rajasthani kadhi which was pungent and spicy in taste. Can be had with rice/roti. I can eat it up, just like that.
Ghewar
We were served pieces of this circular shaped sweet dish made of flour, milk, and sugar syrup along with Ras Malai for dessert to finish off!
Note: Ghewar is prepared during festivals, especially during Teej and Raksha Bandhan.
Starters and Mains from Paramapara
But that's not all! We also got the Garlic stuffed mushroom, Paneer shashlik, Sizzler salad, Khoshla salad, Kurkuri bhindi, Potli biryani and Navratan biryani along with pineapple raita.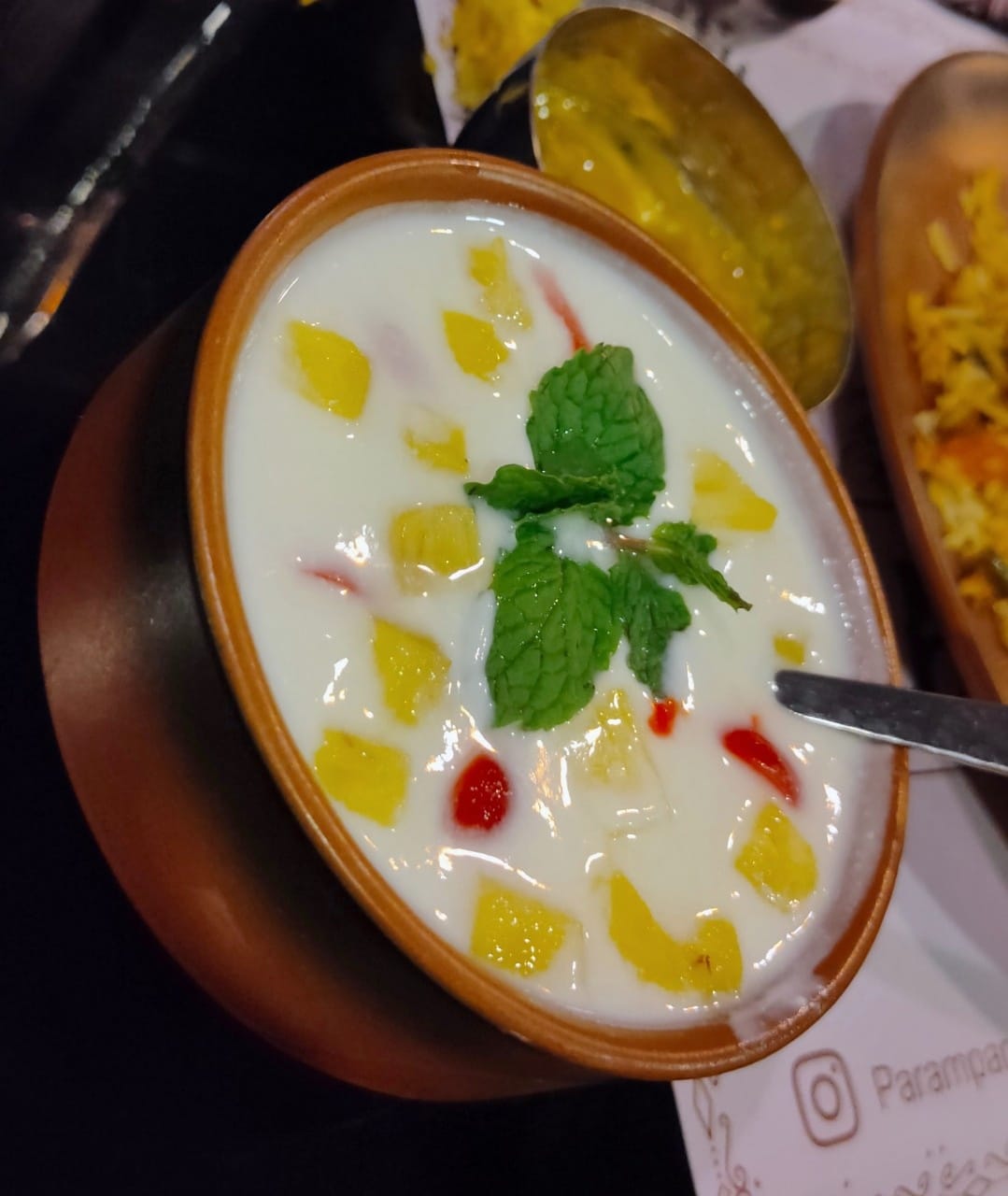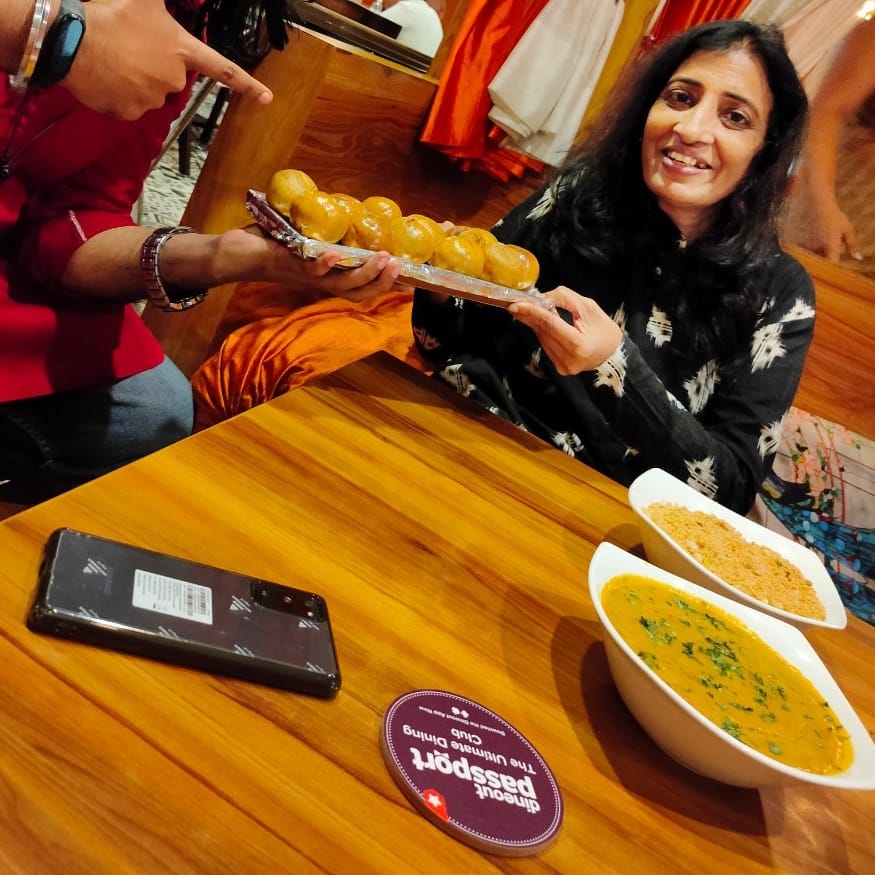 The salads were decent I can say but they tasted a bit on a sweeter scale, I prefer spicy but others may find it ok. I found the starters and mains were nicely cooked. Although had a small complaint with the Biryani. It was too sweet and by coincidence, my serving had too many raisins which really took me off guard since I do not like to bite/chew in a piece of it. I literally, had to scan through to separate them. But the pineapple raita on the side was good.
If there was one dish that I would also order for taking away would be this dish made with paneer. Paneer Khurchan was a delicious combination with assorted pieces of bread. The roti and naan worked well, both of which were nice and perfect for eating with all the different curries and side dishes.
Service
I think the waiters were super nice. The place was packed, so stop expecting them to come to your table right when you want them to. The restaurant is clean and not stuffy. They also have 'Chowki' style dining but that was the only area that was not taken. Perhaps this would work if they made linear arrangements where serving a 'thali' would be easy and comfortable.
Dineout Passport Membership
Soon I should sign up for the Dineout passport membership to devour the 'Rajwada Thali' on their menu! Serving dishes far away from Rajasthan is a good enough reason to dine in. Glad to have a restaurant with a Rajasthani menu in our neighbourhood. It is all vegetarian and if you want Rajasthani, Indian and Continental this is the place.

Parampara Restaurant is located in ANR centre, right behind Labonel and Krsala and has Ample Parking Space.
Foodkarma verdict on Dineout Passport Experience 
Taste: 4/5
Service:4/5
Ambience: 4/5
VFM: 4/5
Total: 16/20